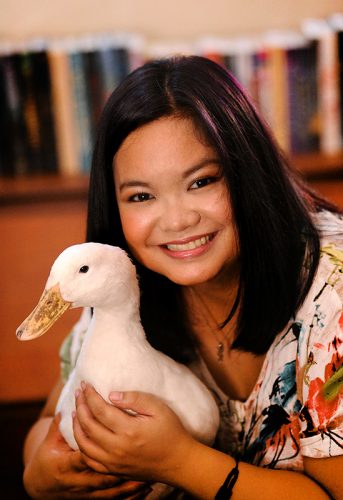 My official bio
Gail D. Villanueva is a Filipino writer and artist based in the Philippines. She is the author of the 2023 Panda Book Awards shortlist title, Sugar and Spite (Scholastic, 2021), and the upcoming Lulu Sinagtala and the Tagalog Gods series (HarperCollins, 2023). Her debut novel, My Fate According to the Butterfly (Scholastic, 2019), was named a Best Book of the Year by Kirkus Reviews, an Amazon Best Book of the Month Editor's Pick, a NCSS-CBC Notable Social Studies Trade Book for Young People, and a 2023 Sakura Medal nominee. Gail was born in Manila but was raised in Quezon City. She and her husband currently live in Rizal with their many pets—dogs, ducks, turtles, cats, and random birds they befriend in the backyard. Learn more at www.gaildvillanueva.com.
Stay Connected:
Website  |  Goodreads  |  Twitter  |  Instagram  |  Pinterest  |  Facebook
More about me
My fiction is represented by the amazing Alyssa Eisner Henkin of Birch Path Literary.
I co-founded the Philippine Blog Awards when I used to blog a lot. I still do, but not so much anymore. I'm currently the Technical Director for Pitch Wars, the webmaster of Asian Author Alliance, and the founder of a kidlit community campaign for Philippine typhoon victims, KidLit For Luzon.
Before I became a published kidlit author, I focused on web design and development. I've been in the field for more than 20 years already. Today, I run a design studio with my husband in Cainta, Rizal. Sometimes, I do freelance copywriting and fiction editing on the side.
And oh… The duck in my official author photo with me was Quackie. She's in heaven now. I miss her so much, but I'm grateful such a sweet and loving bird trusted me and because a huge part of my life. I will never forget her. 😊 If you want to see more of Quackie's photos, you can check out her own blog on Tumblr.
Like my website? I made it! 😊 Check out my online portfolio.
Some random things about me

I own a fish-shaped pencil case and a bread-shaped pillow. My current favorite plushie is a cockroach named Freddie.
 I love bingeing on K-Dramas (thank you, Netflix). The premises are unique and they're bursting with culture and life. Not only that, but a lot of the Korean dramas I've watched lately are really great examples of character development. I'm not just saying that to justify binge-watching instead of writing (well, maybe a bit haha). My recent faves are: The King's Affection, Vincenzo, The Uncanny Counter, Tale of the Nine-Tailed, It's Okay to Not Be Okay, All of Us Are Dead, Strong Woman Bong-soon, Descendants of the Sun, Memories of the Alhambra, and Hotel Del Luna.
As a writer, I'm an extreme plotter. I can't write a single word until I have my character sheets and world-building in place, and that I have a chapter-by-chapter outline to follow. I tried pantsing, but I just can't do it. I guess some of my web design and development habits carried over to my writing process.
I'm very much an extrovert. My personality type is ENTP.
I enjoy zombie movies and TV series with unusual genre mash-ups. Train to Busan, for example. It was the first zombie movie that made me ugly-cry. Pride and Prejudice and Zombies was romantic in a zombie-apocalypse sense. The politics and historical details in the K-Drama, Kingdom, were just so intriguing.
I always beg my husband to reserve tickets for first-day showing of superhero movies. Before the pandemic, that is. Since movie theaters are closed, we just make do with what Netflix offers.
Pre-pandemic, my husband and I hiked or biked every weekend. Being around nature calms me.
We also travelled a lot when it was still safe to visit other countries and other islands in the Philippines. I enjoy exploring new places and eating local food.