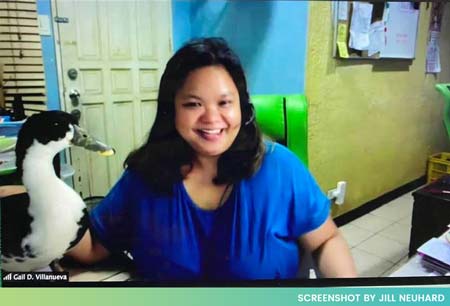 Virtual Visits
Ohhhh, I love doing virtual visits! I offer free 30-minute sessions for classrooms anywhere in the world 🙂 My free virtual sessions (usually either via Skype, Zoom, Google Hangouts, or the educator/librarian's preferred platform) for kids ages 8-12 include a short introduction about me and my books, then a Q&A. Kids ask me just about anything—writing, my favorite books, the Philippines, and even about my pet ducks! My sessions are fun and full of laughs, so I usually space my sessions at intervals of an hour in anticipation of overtime. In addition… If one of my pet ducks is in the mood, I usually include him/her during the sessions, which always amps up the fun level 🙂 Kindly send me an email about your interest through my contact form and let's work something out!
In-Person Visits
I live in Cainta, Rizal in the Philippines so this is a bit tricky. Either way, contact me! I travel a lot, so it's possible I might be in your country or province. Please be sure to indicate your location! 🙂
Book Clubs
I also love meeting book clubs who have discussed my book. I mean, who doesn't? 🙂 Anyhoo, if you want me to meet your book club virtually or in-person, do let me know.
Workshops (Virtual and In-Person)
Contact me and let's discuss!
*** NOTE: Because of current pandemic restrictions, I can only do virtual visits at the moment. *** I'm doing in-person visits again now, hooray! 😊
Book a Free Author Visit with Gail
Book a free author visit with me and it's totally FREE! Just purchase copies of my books for your class, library, or book club to get a Free 30-minute ONLINE author visit from me. Limited slots available per week for September to December 2023. First come, first served.