Lulu Sinagtala and the City of Noble Warriors (Lulu Sinagtala and the Tagalog Gods, #1)
HarperCollins, 9 January 2024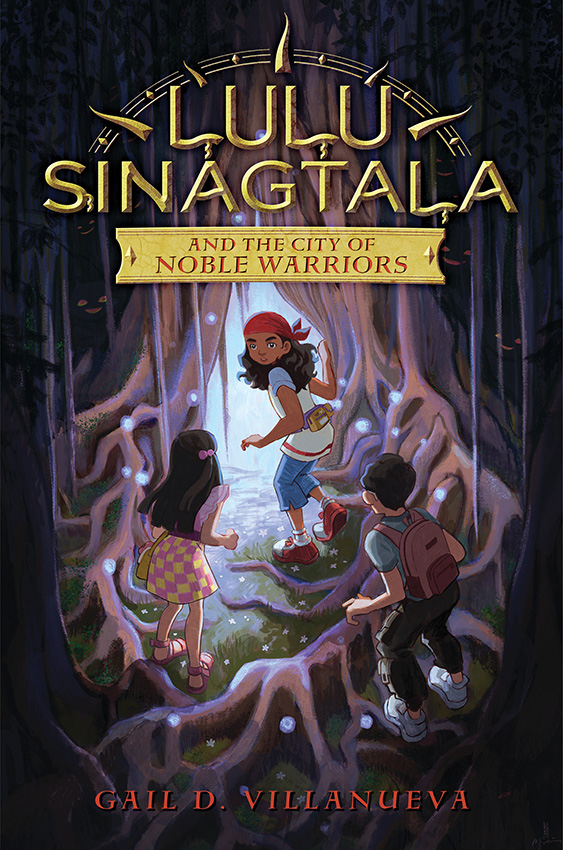 In this fast-paced, thrilling middle grade fantasy rooted in Tagalog mythology, a young Filipino girl discovers realms beyond our own full of monsters and gods, a terrible evil who wants her magic, and even a talking duck! The first book in a duology from Gail D. Villanueva (My Fate According to the Butterfly) that's perfect for fans of Tristan Strong and Aru Shah.
Lulu Sinagtala can't wait for a fun Christmas break. She's excited to hang out with her sister, Kitty, and best friend, Bart; to reenact her favorite legends from Tagalog folklore (like the amazing tale of Bernardo Carpio); and, of course, to eat as much yummy street-side inihaw as possible!
But when a vicious wakwak attacks her neighborhood and kidnaps Mom, Lulu discovers the creatures and deities of Tagalog myth are real and that two additional Realms exist beyond our own. To make it worse, Lulu has superhuman strength and the ability to wield magic, meaning she's the only one powerful enough to stop the evil spirit who's determined to rule the three Realms at all costs. No pressure, right?
Lulu, Kitty, and Bart set off on a quest to rescue Mom, where they outsmart cunning enemies, battle vengeful beings, and form unlikely alliances. Soon, they find themselves swept into a centuries-long fight, unraveling secrets about Lulu and her past that threaten to upend everything and throw the whole universe into chaos. Can Lulu muster the strength (superhuman or not) to find out who she really is and who she can trust to save Mom and the three Realms before it's too late?
Praise for Lulu Sinagtala and the City of Noble Warriors (Lulu Sinagtala and the Tagalog Gods, #1)
Villanueva's fun fantasy adventure takes us on a quest through the urban landscape of metropolitan Manila and includes details of street life in Silanganan: aromatic food vendors, high-speeding bucket trucks, and sari sari stores. Tagalog words and phrases are sprinkled throughout the book and add to the overall atmosphere and world building. There's plenty of humor in this story, and it also touches on epilepsy and adoption in mixed-race families (Chinese and Filipino).
— Booklist
"A Manila tween learns of her magical powers in this duology opener steeped in Tagalog mythology… Readers will be completely immersed in the book's fantastical and culturally and historically rich world, which features inclusive representation; Lulu's bisexuality is naturally woven into her characterization. Villanueva deftly balances complex worldbuilding, plot twists, and moments of levity while touching on serious themes such as colonization. Rich in adventure, intrigue, and magical fun."
— Kirkus Reviews
"A gem of a fantasy novel, vibrant with thrilling Tagalog mythology, laugh-out-loud humor, and the love of family and friends. Readers will cheer for Lulu as much as I do."
— Elsie Chapman, author of The Scroll of Chaos
"Readers will fall in love with Lulu Sinagtala as she makes her way through the world of Tagalog gods and monsters while exploring the complexities of family, friendship, colonialism, and compassion. Sincerely protective, deeply determined, and supernaturally strong, Lulu is a hero for the ages."
— Misa Sugiura, author of the Momo Arashima series
"In this page-turning, twisty middle grade fantasy rooted in Tagalog folklore, readers will be enthralled by Lulu's adventurous spirit and inspired by her love for her family and friends. A must-read for mythology fans everywhere!"
— Katie Zhao, author of The Dragon Warrior and Winnie Zeng series
"Lulu Sinagtala and the City of Noble Warriors is a funny, fast-paced romp across Tagalog mythological worlds, packed with karaoke-singing creatures, epic Filipino heroes, and boy band–loving gods. Amid all the twists, turns, and treachery, Gail D. Villanueva masterfully weaves in a heartfelt exploration of family and identity: there is so much to love about Lulu!"
— Tracy Badua, author of Freddie vs. the Family Curse