One of the best things about being a 2019 middle grade debut is sharing an on-sale date with wonderful people! In my case, it's Jess Redman and Mariama J. Lockington 🙂
Since we're all excited for our upcoming book releases, we decided to have a giveaway for teachers, librarians, and book bloggers in the United States. Logistics make it difficult to open this internationally, but don't despair! It's just the start of the year… We've got more giveaways coming your way in the next few months! ❤️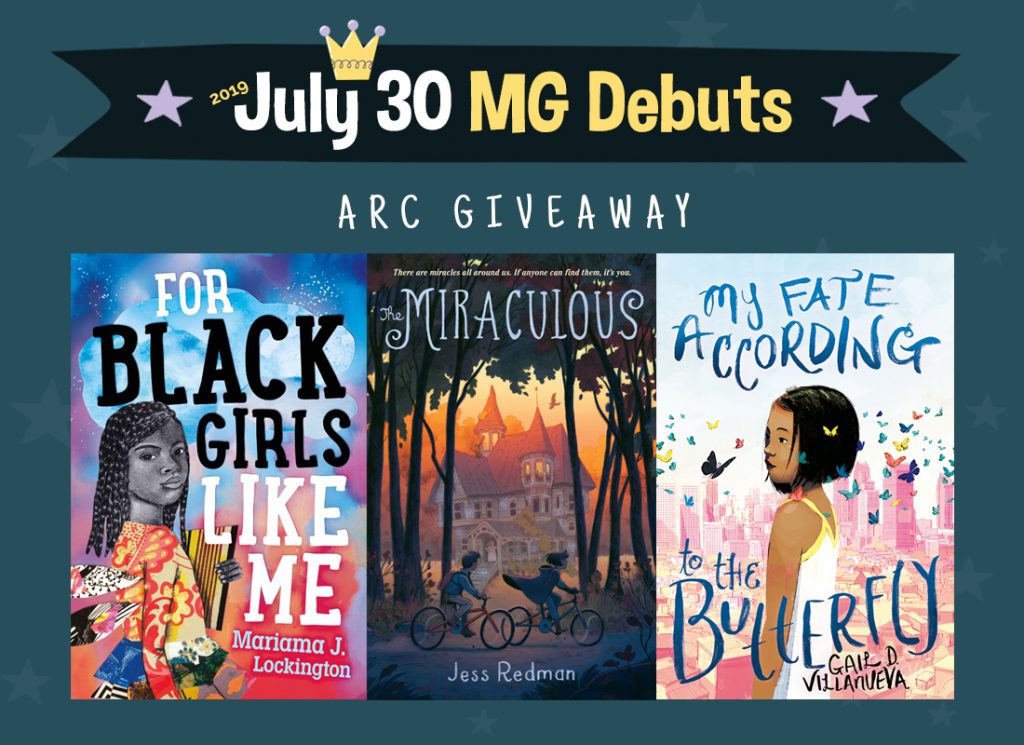 The #July30MGdebuts Giveaway is open to teachers, librarians, and book bloggers in the United States (US Only). It will run from December 30, 2018 to January 5, 2019 (12:00am EST).
We will randomly pick three (3) winners, so there will be:
One (1) winner of Mariama J. Lockington's For Black Girls Like Me ARC
One (1) winner of Jess Redman's The Miraculous ARC
One (1) winner of Gail D. Villanueva's My Fate According to the Butterfly ARC
---
MY FATE ACCORDING TO THE BUTTERFLY
Sab Dulce is doomed!
When superstitious Sab sees a giant black butterfly, an omen of death, she knows her fate is sealed. According to the legend her father used to tell her, she has a week before her destiny catches up with her. All she wants is to be together with her entire family. But her journalist sister, Ate Nadine, cut their father out of her life one year ago, and Sab has no idea why.
If Sab's going to get Ate Nadine and their father to reconcile, she'll have to overcome her fears–of her sister's anger, of leaving the bubble of her sheltered community, of her upcoming doom–and figure out the cause of their rift.
So with her time running out, Sab starts spying on Ate Nadine and digging into her family's past. Soon, Sab's adventures across Manila reveal truths more complicated, and more threatening, than she ever anticipated.
Set in the Philippines, My Fate According to the Butterfly is a moving coming-of-age story about family, reconciliation, and recovery. Readers will root fiercely for the irrepressible Sab as she steps out of her cocoon and takes her fate into her own hands.
Pre-order My Fate According to the Butterfly now:
Amazon  |  Indiebound  |  Books-A-Million  |  Barnes & Noble  |  Book Depository  |  Scholastic Kids
Gail D. Villanueva is a Filipino author born and based in the Philippines. She's also a web designer, an entrepreneur, and a graphic artist. She loves pineapple pizza, seafood, and chocolate, but not in a single dish together (eww). Gail and her husband live in the outskirts of Manila with their dogs, ducks, turtles, cats, and one friendly but lonesome chicken. My Fate According to the Butterfly is her debut novel. Learn more at www.gaildvillanueva.com.
---
FOR BLACK GIRLS LIKE ME
Makeda June Kirkland is eleven-years-old, adopted, and black. Her parents and big sister are white, and even though she loves her family very much, Makeda often feels left out. When Makeda's family moves from Maryland to New Mexico, she leaves behind her best friend, Lena— the only other adopted black girl she knows— for a new life. In New Mexico, everything is different. At home, Makeda's sister is too cool to hang out with her anymore and at school, she can't seem to find one true friend. Through it all, Makeda can't help wondering: What would it feel like to grow up with a family that looks like me?
Through singing, dreaming, and writing secret messages back and forth with Lena, Makeda carves a small place for herself in the world.
For Black Girls Like Me is for anyone who has ever asked themselves: How do I figure out where I am going if I don't know where I came from?
Pre-order For Black Girls Like Me now:
Amazon  |  Indiebound  |  Books-A-Million  |  Barnes & Noble  |  Book Depository  |  Farrar, Straus and Giroux
Mariama J. Lockington is an adoptee, author, and nonprofit educator. She has been telling stories and making her own books since the second grade, when she wore shortalls and flower leggings every day to school. Her work has appeared in a number of magazines and journals, including Buzzfeed News Reader, Bodega Magazine, and Prelude Magazine, and she is the author of the poetry chapbook The Lucky Daughter (Damaged Goods Press, 2016). Mariama is a Bread Loaf Writers' Conference Alum, a Voices of Our Nation Arts Alum, a Literary Death Match Champion and she holds a Masters in Education from Lesley University and a Masters in Fine Arts in Poetry from San Francisco State University. For Black Girls Like Me is Mariama's debut novel, and the story she needed to read growing up as a transracial adoptee in the 1980s-90s. Mariama calls many places home, but currently lives in Kentucky with her partner and her little sausage dog, Henry. When she is not writing or teaching, you'll find Mariama singing karaoke, cooking new recipes, watching Buffy the Vampire Slayer, or re-reading her favorite book, Sula by Toni Morrison. Learn more at www.forblackgirlslikeme.com.
---
THE MIRACULOUS
Eleven-year-old Wunder Ellis is a miracologist. In a journal he calls The Miraculous, he records stories of the inexplicable and the extraordinary. These miracles fill Wunder with the feeling that he is not alone, that the world is magical, that he is part of something brighter than he can imagine.
But then his newborn sister dies, at only eight days old. If that can happen, then miracles don't exist. So Wunder gets rid of The Miraculous. And he stops believing.
Then Wunder meets Faye—a cape-wearing, outspoken girl with losses of her own. Together, they find an abandoned house by the cemetery and the old woman who lives there—and who might be a witch. The old woman asks for Wunder and Faye's help. She asks them to go through graveyards and forests, to townhalls and police stations, by bike and by train. She asks them to believe. And together, they go on a journey that leads them to friendship, to healing—and to miracles.
The Miraculous is Jess Redman's stunning debut about facing grief, trusting the unknown, and finding the brightness in the darkest moments.
Pre-order The Miraculous now:
Amazon  |  Indiebound  |  Books-A-Million  |  Barnes & Noble  |  Book Depository  |  Farrar, Straus and Giroux
Jess Redman is a therapist and an adjunct professor of psychology. She currently lives in Florida with her husband, two young children, and an old cat named Soul Pie. The Miraculous is her debut novel. Learn more at www.jessredman.com.