Hello! Welcome to my 2020 Pitch Wars wish list post, where you'll get to know about me and what Middle Grade manuscripts I'm hoping to mentor this year. Pitch Wars is a mentoring program where published/agented authors, editors, or industry interns choose a writer to guide and help them polish their manuscript till it shines for an agent showcase.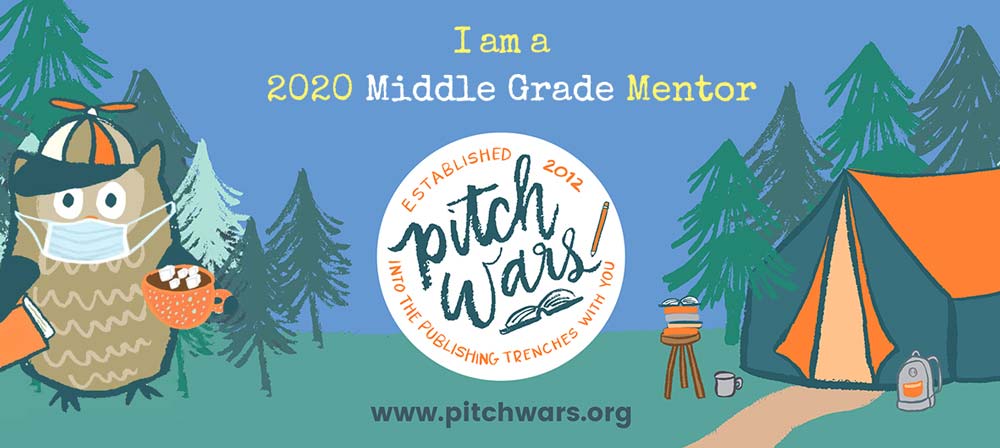 About Me
I'm Gail, and I'm a Filipino author born, raised, and based in the Philippines. I'm also a web designer and developer with 20+ years experience (I'm older than I look!), and I run a home-based creative agency with my husband in the outskirts of Manila. If you've read up a bit on Pitch Wars, yes, I'm the same Gail D. Villanueva who serves in the committee as the Pitch Wars Technology Director 🙂 My writing is represented by Alyssa Eisner Henkin of Trident Media Group.

I have three dogs, five ducks, two turtles, three cats, and one friendly but lonesome chicken. I wish I can say that I also speak Doglish and Duckinese, but alas, I'm only bilingual—I can write and speak fluently in both Tagalog and English.
My debut middle grade novel, My Fate According to the Butterfly (Scholastic, July 2019), was named a Best Book of the Year by Kirkus Reviews, an Amazon Best Book of the Month Editor's Pick, and a NCSS-CBC Notable Social Studies Trade Book for Young People. Set in present-day Manila, Butterfly is about soon-to-be 11-year-old Filipino girl Sab, who sees the black butterfly of death. Believing she has seven days to live, Sab embarks on a quest to reunite her older sister with their estranged father. Through her journey, she unearths the mystery of the black butterfly and discovers family secrets more painful than she imagined. Learn more about Butterfly here.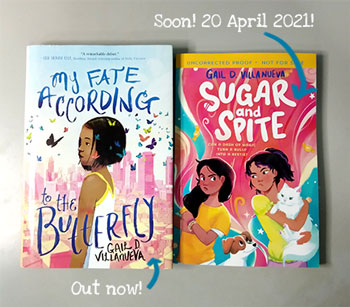 My next middle grade book, Sugar And Spite, will be published by Scholastic on April 20, 2021. It's about a Filipino girl named Jolina Bagayan who uses gayuma (the Filipino version of a love potion) to seek retribution against her bully despite the magic's dire consequences. Set in a fictional island in the Philippines, Sugar And Spite is inspired by Filipino folk Catholicism and explores consent, socioeconomic privilege, and love in different forms. Learn more about Sugar And Spite here.
Genres I would like to mentor
Okay, let's get to the fun stuff! I'm not going to define the genres that I like since there are so many resources about them already on the internet. I'll just share with you some of my recent favorite books under the genres I'd love to mentor. This way, you'll get a sense of what kind of stories I usually enjoy.
Fantasy (portal, urban/contemporary fantasy, magical realism, paranormal, historical, other)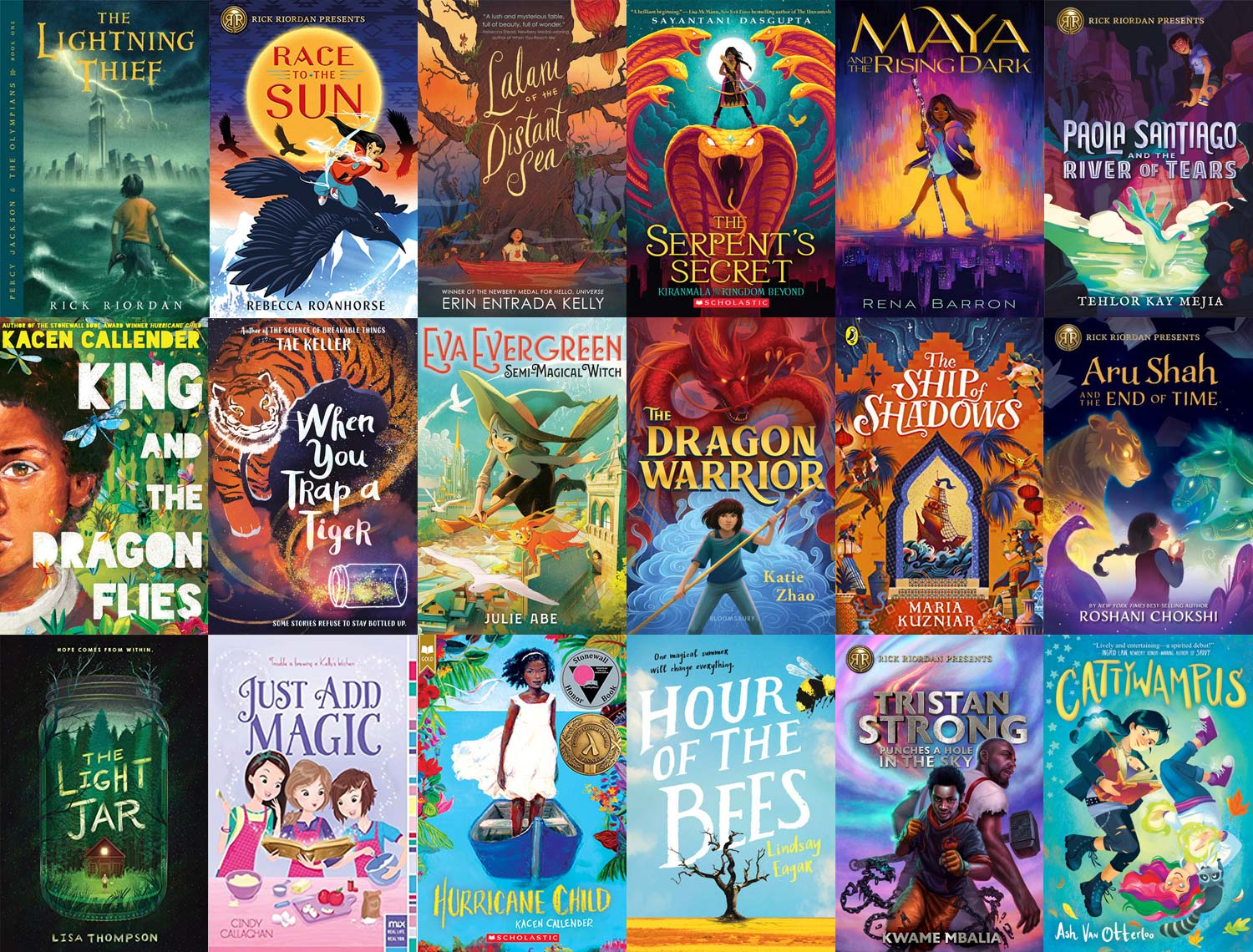 1st Row, from left to right: Percy Jackson and the Olympians series by Rick Riordan, Race to the Sun by Rebecca Roanhorse, Lalani and the Distant Sea by Erin Entrada Kelly, Kiranmala and the Kingdom Beyond series by Sayantani DasGupta, Maya and the Rising Dark by Rena Barron, Paola Santiago and the River of Tears by Tehlor Kay Mejia. 2nd Row, from left to right: King and the Dragonflies by Kacen Callender, When You Trap A Tiger by Tae Keller, Eva Evergreen, Semi-Magical Witch by Julie Abe, The Dragon Warrior by Katie Zhao, The Ship of Shadows by Maria Kuzniar, Aru Shah and the End of Time by Roshani Chokshi. 3rd Row, from left to right: The Light Jar by Lisa Thompson, Just Add Magic by Cindy Callaghan, Hurricane Child by Kacen Callender, Hour of the Bees by Lindsay Eagar, Tristan Strong Punches A Hole in the Sky by Kwame Mbalia, Cattywampus by Ash Van Otterloo
Contemporary (light or funny, serious or issue-driven, dark) and Literary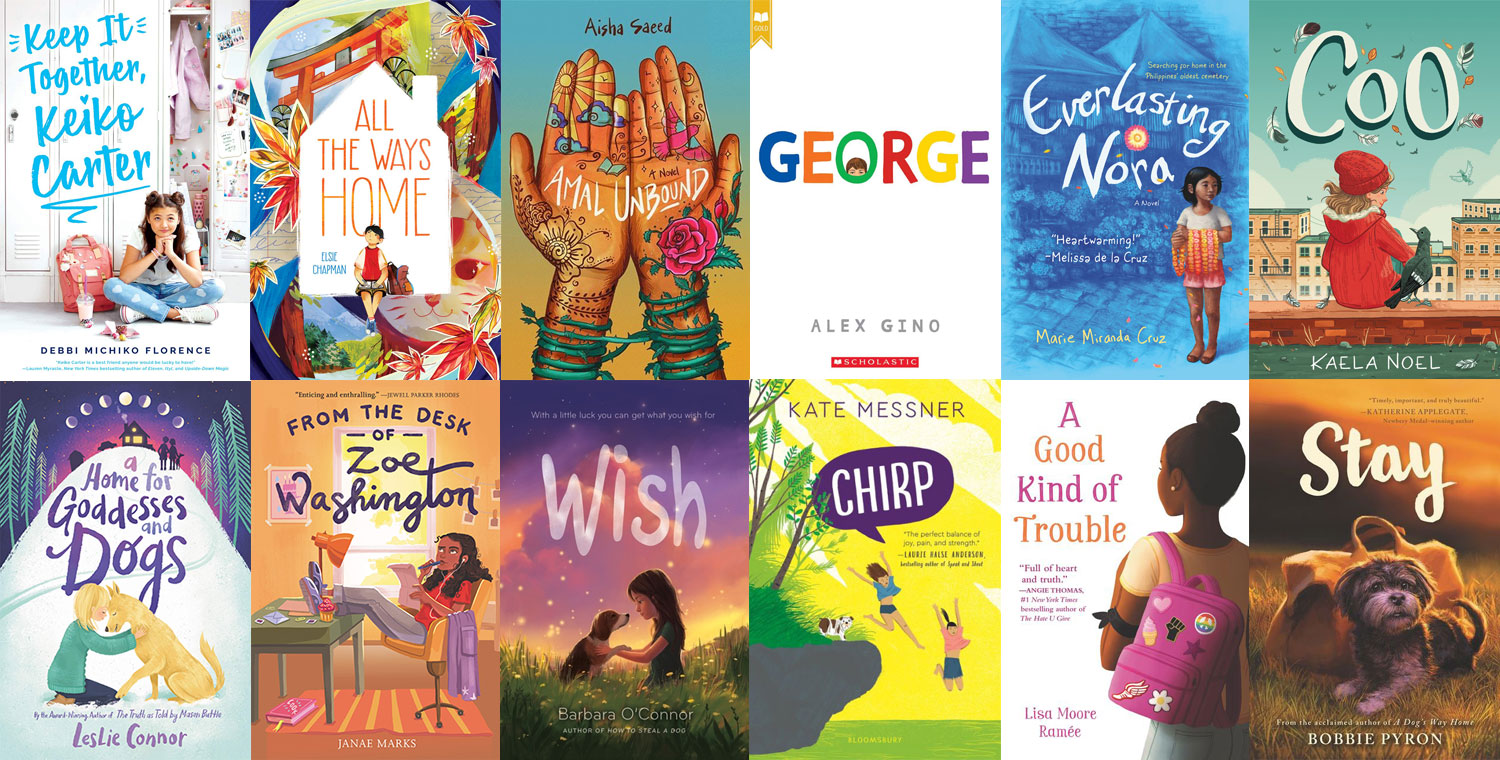 1st Row, from left to right: Keep It Together, Keiko Carter by Debbi Michiko Florence, All the Ways Home by Elsie Chapman, Amal Unbound by Aisha Saeed, George by Alex Gino, Everlasting Nora by Marie Miranda Cruz, Coo by Kaela Noel. 2nd Row, from left to right: A Home for Goddesses and Dogs by Leslie Connor, From the Desk of Zoe Washington by Janae Marks, Wish by Barbara O'Connor, Chirp by Kate Messner, A Good Kind of Trouble by Lisa Moore Ramée, Stay by Bobbie Pyron
STEM


From left to right: The Fourteenth Goldfish by Jennifer L. Holm, The House that Lou Built by Mae Respicio, The Science of Breakable Things by Tae Keller, The Thing, About Jellyfish by Ali Benjamin, What Stars Are Made Of by Sarah Allen, The Miscalculations of Lightning Girl by Stacy McAnulty
Adventure


From left to right: Peasprout Chen by Henry Lien, Clean Getaway by Nic Stone, The Voyage to Magical North by Claire Fayers, Moving Target by Christina Diaz Gonzalez, The Way to Rio Luna by Zoraida Córdova, The Truth According to Blue by Eve Yohalem
Historical, Alternate history, and Steampunk


From left to right: We Dream of Space by Erin Entrada Kelly, Lucky Broken Girl by Ruth Behar, Planet Earth is Blue by Nicole Panteleakos, The Parker Inheritance by Varian Johnson, My Life as an Ice Cream Sandwich by Ibi Zoboi, The Gauntlet by Karuna Riazi
Retellings


From left to right: A Wish in the Dark by Christina Soontornvat, Descendants series by Melissa de la Cruz, The Ever Afters by Shelby Bach, Breadcrumbs by Anne Ursu, The Jumbies by Tracey Baptiste, Pippa Park Raises Her Game by Erin Yun
Graphic novels and Illustrated Prose


From left to right: Pie in the Sky by Remy Lai, Dog Man by Dav Pilkey, The Baby-Sitters Club by Raina Telgemeier, New Kid by Jerry Craft, Drama by Raina Telgemeier, Pashmina by Nidhi Chanani
More about what I want
I would love to receive submissions from marginalized creators. The world needs our voices!
I don't mind if it's a lower MG, general MG, or upper MG. As long as you can nail the voice appropriate for the MG age group, we're good.
Give me books with heart. Lots and lots of heart! I love books that make me feel.
Make me laugh. Make me cry. Extra bonus points if your book can do both.
I adore complex characters. An exciting plot is fun but it's not enough for me—I need characters to pop out of the page too.
Family and sibling stories are my Kryptonite.
I'm okay with animal protagonists, especially birds and dogs. And ducks. Ducks are the best!
Why should you submit to me?
Simple. You should submit to me because I'm fabulous! 😂
Seriously though, I've been both a mentor (for Pitch Wars 2017 and other mentoring programs) and a mentee (Kate Messner, Anica Mrose Ricci, and Erin Entrada Kelly taught me a lot about writing and editing). My own mentors have set the bar high on what a good mentor should be, and you can bet that I'll do my best to give you a similar experience.
But here's the thing: I believe that a successful mentor-mentee relationship goes both ways. You also need to be willing to get down and dirty. I'm not here to just tell you that your book is perfect; I'm going to be here to guide you through making it better. I'm willing to do my best to help you polish your book until it shines, but to do that, you'll also need to be willing to do the work. We'll be in this together!
My mentoring process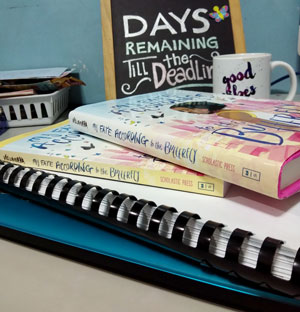 I usually read manuscripts once as a reader, to enjoy it and see how everything falls into place. I take notes on my 2nd read, noting both the things I love and those I feel can be improved. I'm not mean, but I am straight to the point.
My editorial letters are very detailed and organized—they tend to run long. I include resource links if I need to, and book recommendations if applicable. I'll explain why I think something doesn't work, but let you decide to take the suggestion or not. I will, however, do everything to convince you if the issue in question is hurtful or offensive.
I'll let you digest my edit letter, then we'll schedule a video or voice call for clarifications and a brainstorming of ideas and solutions. My editor and I do this every time she sends me an edit letter. It's a great way to cut down the time of waiting back and forth for email replies, especially since we'll be under time pressure. I'll be open for texts/calls via WhatsApp for quick questions too.
In short, you'll be seeing and hearing a lot from me in the next few months as my mentee.
I'm probably not the mentor for you if…
… Your book is really scary. I can handle dark fantasy, but a super-scary horror novel will give me nightmares. It's the mark of great horror novel, and as a reader, I love that. But as a mentor? Well, if I'm too scared to keep revisiting your book's creepy world, I definitely won't be able to mentor you properly.
… Your book features clowns. I'm sorry, but they creep me out. I don't like them at all.
… Your book is a novel-in-verse. I can't write verse even if my life depended on it, so I'm definitely not the best person to mentor this one.
… We're friends. I know you're awesome but I don't want to make things weird between us. It'll be better if you pick another mentor.
Some random things about me

I own a fish-shaped pencil case and a bread-shaped pillow. My current favorite plushie is a cockroach named Freddie.
 I love bingeing on K-Dramas (thank you, Netflix). The premises are unique and they're bursting with culture and life. Not only that, but a lot of the Korean dramas I've watched lately are really great examples of character development. I'm not just saying that to justify binge-watching instead of writing (well, maybe a bit haha). My recent faves are: It's Okay to Not Be Okay, Strong Woman Bong-soon, Descendants of the Sun, Memories of the Alhambra, Mystic Pop-up Bar, and Hotel Del Luna.
As a writer, I'm an extreme plotter. I can't write a single word until I have my character sheets and world-building in place, and that I have a chapter-by-chapter outline to follow. I tried pantsing, but I just can't do it. I guess some of my web design and development habits carried over to my writing process.
I'm very much an extrovert. My personality type is ENTP.
I enjoy zombie movies and TV series with unusual genre mash-ups. Train to Busan, for example. It was the first zombie movie that made me ugly-cry. Pride and Prejudice and Zombies was romantic in a zombie-apocalypse sense. The politics and historical details in the K-Drama, Kingdom, were just so intriguing.
I always beg my husband to reserve tickets for first-day showing of superhero movies. Before the pandemic, that is. Since movie theaters are closed, we just make do with what Netflix and HBO offer.
Pre-pandemic, my husband and I hiked or biked every weekend. Being around nature calms me.
We also travelled a lot when it was still safe to visit other countries and other islands in the Philippines. I enjoy exploring new places and eating local food.
That's it! Feel free to poke around my social media accounts to learn more about me (I'm usually on Twitter or Instagram). I go on social media sporadically (depends on my schedule), but I think I've posted enough stuff for you to see what I'm like 😀
I'll be part of these Pitch Wars live events!

Pitch Wars 2020 Middle Grade Mentors' Wish Lists
If my tastes, style, and vibe aren't for you, that's totally fine! Pitch Wars has a really great MG roster. Read up on other mentors' wish lists to see if any of them would be a better fit for you 🙂 Good luck!!!
Click here to view all Pitch Wars 2020 Mentors' Wish Lists
For a complete listing of 2020 Pitch Wars mentors by genre, click here.