Hey there, Pitch Wars Hopefuls. Are you excited for this year's Pitch Wars? Well, we are. Team Patatas can't wait to get started!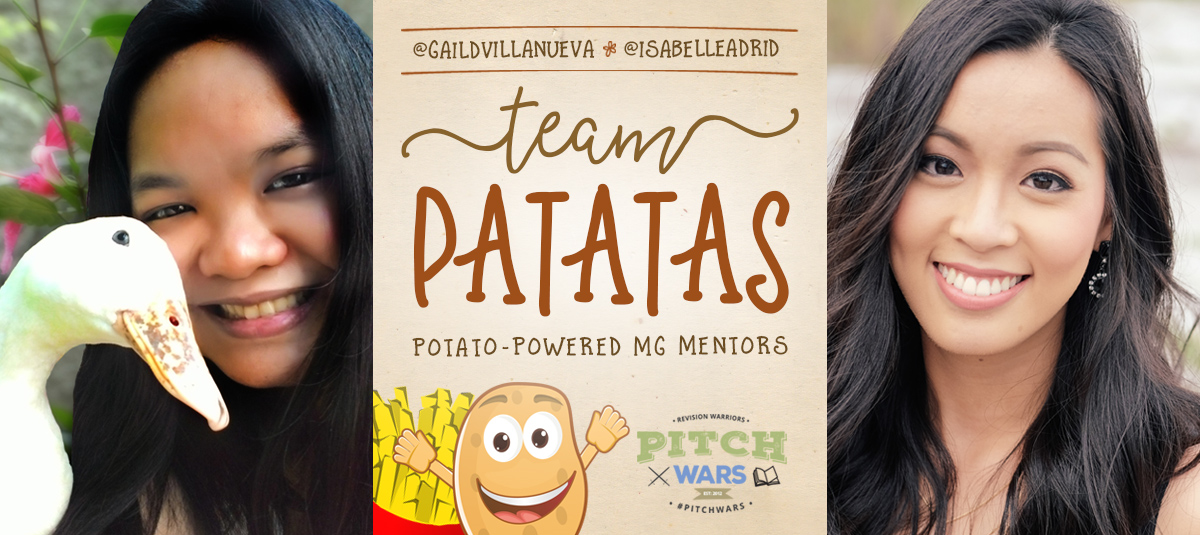 First off, intros!
I'm Gail, and I write historical fantasy and contemporary with a dash of magic for middle grade readers. I'm represented by the amazing Alyssa Eisner Henkin of Trident Media Group. I live near Manila, in a province urban enough to experience heavy traffic, but still has a rural community that allows me to keep a little backyard farm. I've got four dogs, six ducks, two turtles, a chicken, and a cat. They're quite a handful, but I love them all.
So, that's me. But Team Patatas isn't Team Patatas without my other half—my co-mentor and writing BFF, Isabelle Adrid!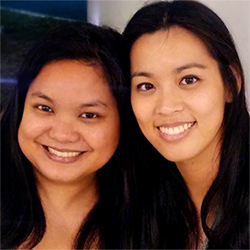 No joke, Isabelle's a great writer. She's even a recipient of the 2008 President Gloria Macapagal-Arroyo award of outstanding achievement in campus journalism. It takes a lot for me to get into a YA novel (I'm primarily an MG reader), but I couldn't put Isabelle's book down when I read it. I don't cry easily, and yet, her story managed to turn me into a puddle of tears. I'm lucky I've got her on my side as my friend and critique partner. And as the Team Patatas apprentice, you will be too!
While we both live in the Philippines' capital, Isabelle and I met on Twitter, and it's just like your usual online-meet story 😀 Seriously, I think it was fate that brought us together. I mean, what are the chances you find the one friend who basically loves and hates everything you also love and hate? The friend who knows what you're thinking even before you say it out loud? Or the friend who complements your strengths and weaknesses, writing or otherwise?
That's Team Patatas for you 🙂
So why choose us?
This is our first year mentoring in Pitch Wars, BUT that doesn't mean Isabelle and I are new to mentoring.
For the past years, we've critiqued manuscripts for both agented and yet-to-be-represented authors. We've done sensitivity reads, focusing on the portrayal of Filipinos and the Philippine culture in fiction. We've taken on mentees through the Author Mentor Match program, and we're proud to say they're all doing a fantastic job revising their manuscripts. Won't be surprised if they get offers soon!
Isabelle and I had been on both ends of mentoring—as mentors and mentees. I'm a proud protégé of middle grade maestro, Kate Messner, whom I met through the Writing in the Margins mentoring program. I've worked with Erin Entrada Kelly and Anica Mrose Rissi too, and I've learned a lot on the craft of writing from them. Isabelle was a finalist for the Writing from Color and Native Voices (WCNV) pitch contest.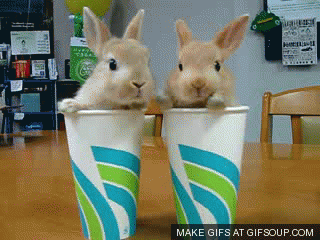 But that's not the best thing. You see, Isabelle and I are so much alike in so many ways. Our revision ideas are very similar, so our future mentee won't worry about conflicting feedback. And of course, since there's two of us, you're getting two rounds with fresh set of eyes each time (Isabelle will discuss more about this in her post). We'll do everything we can to make your manuscript shine.
Oh, and yeah. We believe in long-term relationships (I mean, Isabelle and I both married our college sweethearts). You can expect we'll be your mentors even after Pitch Wars. Like, forever.
What we're looking for
Yay! You've read this far. I hope that means you're interested in being our mentee 🙂 Here's a quick view of what we want, and don't want:
Want
MG with emotional punch (if you can make us laugh and cry, that would be awesome)
Contemporary
Contemporary with magic and/or speculative fiction elements

***

Family and friendship stories
Sisters
Contemporary STEM fantasy
Food magic
LGBTQi* main characters
Protagonists with disabilities
Filipino main characters 🙂
People of Color as primary protagonists
Pets
Stories set in South East Asia
#ownvoices
Do Not Want
Horror
Mermaids
Fairies
Sports-heavy themes
High Fantasy
Novels in Verse
Epistolary novels
Violence towards animals (NO. Just no.)
*** UPDATED 2017-07-20 to Add: I think a popular term used for this is "Magical Realism." I'm not here to debate whether or not it's correct, but we personally cannot use the term without considering its post-colonial influences and its turbulent history. While we love reading in this genre, we feel that three months may not be enough to work on a magical realism project ("magical realism" as defined in this article) and do it justice. But like all other genres not mentioned, you can try us just in case 🙂
As Filipinos, we do have fondness for stories featuring People of Color. Growing up, we rarely saw ourselves in the books we read, and we'd love to change that. We won't ask you to disclose sharing a marginalization with a main character if you're not comfortable. However, we do want our mentee to be willing to ensure proper representation, and get a sensitivity/targeted reader should the need arises.
If your manuscript doesn't fall under either of these lists, you can still try us. Who knows? We might like something we aren't actively looking for.
Head over Isabelle's blog to learn more about our preferences, and how we do things. HINT! A scavenger hunt word is also hiding in her post. 😀
Visit Isabelle's Pitch Wars blog post now!
For more details on Pitch Wars and the Mentor Blog Hop, visit Brenda's post.
Mister Linky's Magical Widgets — Thumb-Linky widget will appear right here!
This preview will disappear when the widget is displayed on your site.
If this widget does not appear,
click here
to display it.