The submission period for Pitch Wars 2020 is right around the corner! Are you excited? Anxious? Excited and anxious? I totally get you're feeling both. After all, we all want to put our best foot forward.
Fortunately, the Pitch Wars team has put together a lot of resources for you to help lessen the anxious feelings.
The best place to start is to know what Pitch Wars is exactly. This page tells you all the basic things you need to know about it. If you have questions, head over to our Submission FAQ page before hitting us up on Twitter or email. Since the submission period is already next week, I'm assuming you've already gone through these pages.
I think one of the things that cause us a lot of anxiety when applying for something is when we submit our requirements through a form. We wonder if our application went through—did it reach the people it's meant for, or did the internet ether swallowed it up? As the Pitch Wars Tech Director, it may seem like I'm pretty comfortable with using technology. Well, I do to some extent, but I'm also an author like you—I obsess about these things, too. And, of course, I want to make sure that your submission got through to us just fine as well, because a lost submission could indicate a problem that my team will need to fix.
So, with these in mind, the Tech team made sure that the submission process is as painless as possible. Our Agent Liaison, Sarah Nicolas, even made a video run-through of how to submit your manuscript for Pitch Wars consideration.
And here's a post on how to prepare your Pitch Wars 2020 submission.
But still, you wonder, what if I didn't format it right? What if my sample pages look ugly? What if—?
Before you worry if formatting will ruin your chance getting into Pitch Wars—let me tell you that NO, it will not. For one, a mentor will not reject your entry for ugly formatting. We're looking for great stories we can help, not stories with nice formatting 🙂
For another, your entry will look good on our website. It will follow our submission site's style sheet so it'll look pretty for our mentors no matter what.
Take a look! Here's how a screenshot of a Writing Sample on the confirmation email. I know, I know—it doesn't look very nice: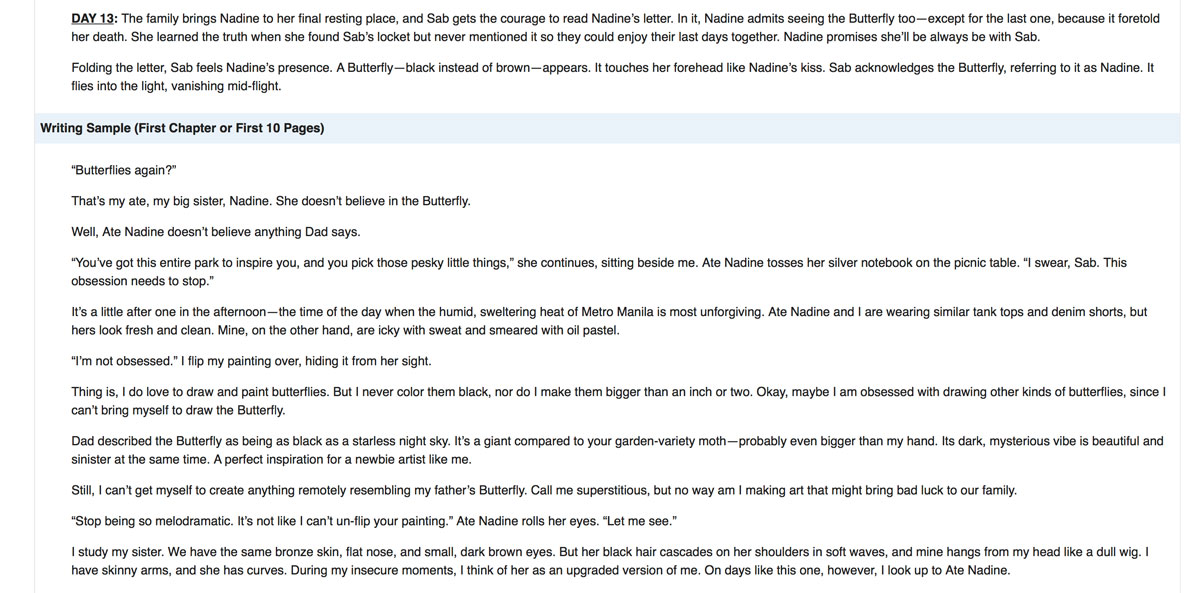 HOWEVER, here's how our mentors will see your entry: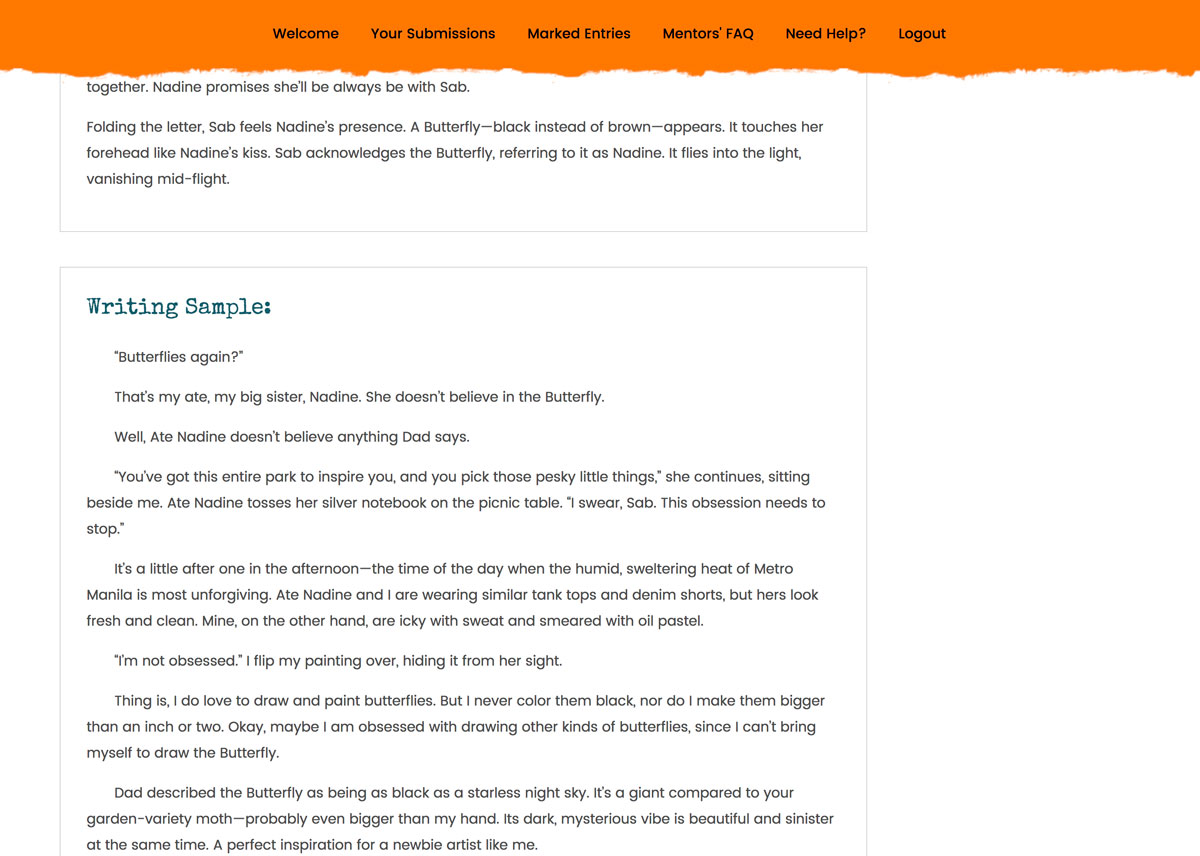 So, really, don't obsess over your entry's formatting! 🙂
Still anxious? Well, here's a few more things to note that may help ease your worries:
Add

[email protected]

to your email address book. Our server is sending a lot of confirmation emails during the submission period—which makes it highly susceptible to being marked as spam. Adding this email address to your address book will help ensure that your submission confirmation email will reach your inbox.
Remember that you have September 27th 12:01am EST to October 1st 10:00pm EST to submit your entry. I'm not very good with math, but I'm guessing that's around five days. Five days to make your submission! Which means, you don't have to submit as soon as submissions open. You can submit any time within those five days.

As someone who monitors the Pitch Wars server, I can tell you outright that we get a surge of submissions during the first hour of opening the forms. If this is the only time you can submit your entry, then by all means submit during the surge. But if you're able to put it off, we'd really appreciate it if you do. Doing so will help us mitigate the heavy server load, which in turn will keep the website from crashing.

On the other end, I wouldn't recommend submitting on the last minute of October 1st either. Our forms follow a very strict shut down period. It will shut down at exactly 10:00pm EST on October 1—you will need to have pressed the SUBMIT button before this time. If our server time doesn't match your clock and you're off by a second, your submission will not go through and there's nothing we can do about it. You will have to wait for next year to submit. So, to be safe, don't tempt fate and submit when you still have more than enough time. And yep, we also get a surge of submissions on the last hour of the last day.
Post Edit 2020/09/27: There seems to be a rumor going around on Twitter about submission cap. Let me debunk this right now: THERE IS NO SUBMISSION CAP IN PITCH WARS. Even if our mentors get 100,000,000 submissions or more, they will get each and every one of them. Please don't panic and rush to submit. We would really like to keep our server from crashing.
Post Edit 2020/09/27: A change that we implemented this year is that mentors will not have access to their applicant submissions until after the submission period is over. So it really doesn't matter if you submit first or last. Mentors won't even know the order by which their submissions came in.
I hope this post somehow helped ease pre-sub jitters, and make the Pitch Wars submission process less daunting and scary. We want you to enjoy the experience, and have fun! 🙂
Good luck! I'm crossing my fingers you find a mentor who can help you. Here's a sprinkle of pixie dust for a bit of positive vibes! ✨🍀✨✨🍀✨✨🍀✨