I turn 39 today 🙂 There's a pandemic going on so this is definitely a cause for celebration—a socially-responsible celebration, of course!
To celebrate my birthday, I'm giving away this set of fun prizes!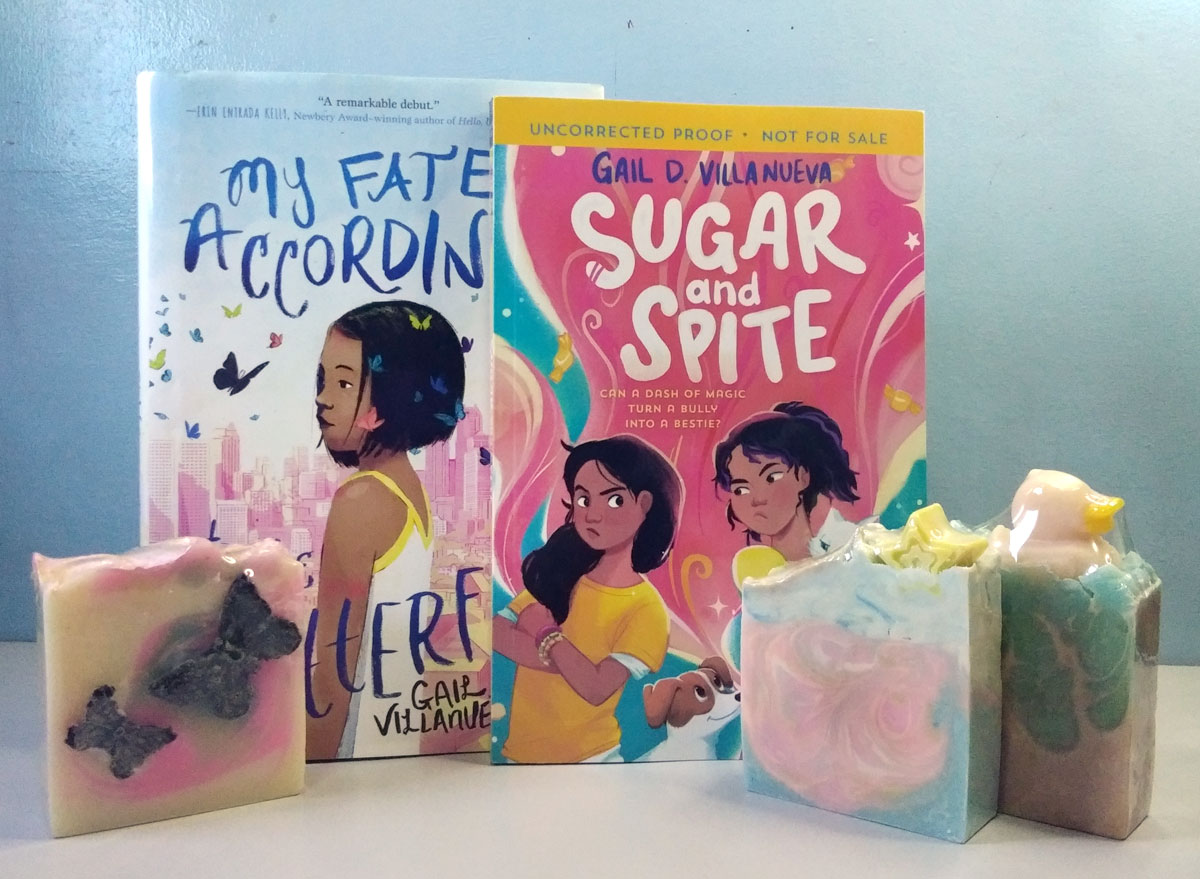 Aren't they the prettiest? ❤️
One (1) Book-themed handmade soap (My Fate According to the Butterfly)
One (1) Book-themed handmade soap (Sugar And Spite)
One (1) Quackie the Duck themed handmade soap
One (1) Signed hardcover copy of My Fate According to the Butterfly
One (1) Signed advance reading copy of Sugar And Spite
TWO WINNERS will each receive a set of these prizes. One "International Winner" will be drawn, then one "Philippine-based Winner" will be drawn from the same pool of entries minus the International Winner. "International Winner" can reside anywhere in the world (including the Philippines) where shipping from or within the Philippines is allowed. "Philippine-based Winner" must currently reside in the Philippines and must have a Philippine shipping address. Prizes cannot be transferred, redeemed for cash or substituted by winner. Click here for the Terms and Conditions!
*** IMPORTANT: Please note that there may be unforeseen delays on shipping due to pandemic restrictions. ***
About the Handmade Soaps
I just loooooovvvvve these handmade soaps so much! I had them especially made to match my book covers, and the duck-themed one was inspired by Quackie (my sweet cutie Pekin duck) and my website color scheme. I call the Quackie-inspired soap, "Quackumber," a combination of Quackie's name and cucumber. Why cucumber? Well, Quackie loves sliced cucumbers! 🥒 The Quackumber soap has a citrus and cucumber scent.
I call the soap inspired by My Fate According to the Butterfly, "Black Butterfly." Because, duh, it's about the superstition of the black butterfly. Black Butterfly has a lavender and mint scent, which I feel captures my main character Sab perfectly! 🦋
"Magic Yema" is what I call the Sugar And Spite soap. The book's not out yet (it's coming out on April 20, 2021), but I think it's safe to say that Jolina will infuse gayuma on yema candies to give to her bully as a form of revenge. Yema is essentially a milk candy, so Magic Yema has a vanilla and goat milk scent. 🍬
Join now!
Enough talking, go join my giveaway now! 🙂