After all we've done for her, Poknat just flew up the wall and left. Just like that.
You see, we never really intented to have Poknat. I already have four ducks to care for. Two drakes, two girls — the perfect balance. Poknat came into our lives when my dad took pity on her.
I was hanging out the front porch with Quackerthon McDuck (my fave duck) and Kubrick (my canine "alpha commander") when we saw a man on a motorcycle stop in front of our gate. He asked me if I owned the duck, I said "duh." I mean, really? Quackerthon's sitting beside me. Obviously, he's MINE. But the man pointed at something near Next-Door's gate. Finally convinced he wasn't planning on taking my duck — or dog — I stood up and looked.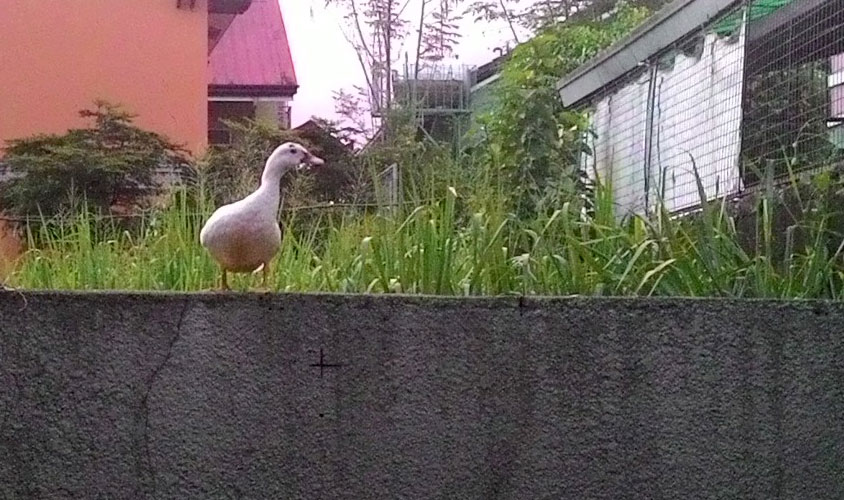 It was indeed another duck. A girl, by the sound of its quack. She couldn't be an American Pekin Duck like my flock, as she had this ugly, squid ink fart marking on her face. But I knew that duck. My husband Marc had pointed her out to me. She belonged to Across-the-Street Neighbor, who decided to make a mini farm out of the empty lot beside our house (Next-Door's on the left, the empty lot's on the right).
Across-the-Street Neighbor is kind to us. They're actually friendlier than Next-Door. I just couldn't let a stranger take their duck without them having a say on it. Lucky for me, my dad was hanging around near the porch, and heard our exchange. He took it upon himself to fend the stranger off, and accompanied me to knock on Across-the-Street Neighbor's door to inform them of the attempted duck-napping.
As expected, Across-the-Street Neighbor was horrified. But they said there was nothing they could do. The duck was a present from their driver, and they just didn't have space in their house. Actually, the duck was even part of a pair, but its partner sadly became roadkill. So the poor duck was merely looking for company. My dad, being my dad, volunteered to take care of the duck. "Oh, Gail has ducks! Yours will feel right at home," he said. Gee, thanks Dad. I love it when you volunteer my farming services.
So there. The duck lived with us. I named her Poknat, just because. She grew pretty feathers and got fatter, but her ugly markings stayed the same. Quackerthon and crew probably knew she was unlike them, they never really welcomed Poknat into the flock. They tolerated her, sure. But every meal time, I always saw Poknat hanging back. She'd only eat what's left of the feed.
Poknat's ugly markings weren't the only reason why she stood out in the flock. I kinda grew to like her. She had attitude. Caught her more than once pulling a chicken's tail when the girls tried to get the left-over feed. Poknat was at the bottom of the duck flock chain, but she wasn't letting the hens get the best of her.
But Poknat never really felt at home with my flock — duck AND chicken 🙁 One day, she just flew off and left. Marc and I tried to find her, but we were too late. We drove to a subdvision within our village where Poknat could have gone, asked around and showed every maid and gardener we met the photo of Poknat. They never saw her. The only person who did — the security guard by the subvision's gate — seemed to have led Poknat to her doom. He couldn't look us in the eye, told us some story that his fellow guards saw her but couldn't catch her. Maybe he was telling the truth. Maybe he didn't have anything to do with capturing Poknat, only his fellow guards did. But I felt his guilt. He knew something, and his expression told me we shouldn't expect to see Poknat again. Like, never again 🙁
How I wished I could have told Poknat we liked her, and she didn't have to leave. But it's a silly thought. I don't do Quack Speak.
Yes, I know. My post title is misleading. I don't feel the least bit slighted by Poknat. She was a duck. She did what ducks did if their wings could carry them — fly.
I guess I just never been good coping when pets leave. 🙁